Persons with disabilities face tremendous barriers when seeking employment. Community-based organizations are often at the forefront of efforts to develop and implement highly effective program models that not only support employment goals for persons with disabilities but do so in a manner that supports employment retention and advancement.
With grant support from The Harry and Jeanette Weinberg Foundation and resulting from dialogue in the Jobs workgroup of the National Affinity Group on Jewish Poverty, the Network of Jewish Human Service Agencies (NJHSA) developed a proposal to survey NJHSA member agencies and other community-based organizations to identify the elements and/or design of different disability employment program models that could lend themselves to be considered as "Best Practice".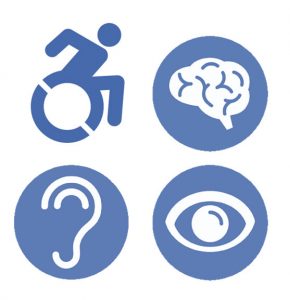 The NJHSA Disability Employment Best Practice Guide, a project of the NJHSA Center for Innovation and Research, was developed on the NJHSA definition of Best Practice.  In keeping with this definition, NJHSA believes that Best Practice program elements or models meet the following criteria:
DEMAND:   The best practice addresses a compelling need for the organization, or the communities served (could be programmatic or operational).
RESPONSIVE:  The best practice incorporates client/user input/representation and is reflective of diversity, equity, and inclusion.
IMPACT:  The best practice produces a high degree of impact and is supported by data.
REPLICABILITY: The best practice is replicable in other organizations, communities, and/or service delivery settings.
SUSTAINABLE AND COST-EFFECTIVE: The best practice uses resources effectively and has achieved a solid and reliable funding plan.
NJHSA partnered with the Corporation for a Skilled Workforce (CSW) and with RespectAbility to develop and administer the project.  NJHSA also engaged member agency volunteers from its Best Practices Committee.
The themes and initial findings from the survey are summarized in this Guide.  We hope the Guide and a related learning event are helpful resources for both practitioners and funders.  We are most grateful for the generous support and partnership of The Harry and Jeanette Weinberg Foundation, the active engagement of the participating agencies that submitted program models, and the volunteer representatives of the NJHSA Best Practices Committee who supported the development of this project and participated in the thoughtful review of program data.


The Network's Center for Innovation and Research is holding a NETTalk to share the launch of the
recently completed Study: Best Practice Program Models in Disability Employment
on Thursday, August 4, 2022, from 12:30 pm – 2:00 pm ET.
REGISTER
---