Date: Tuesday, January 24th, 2023, 12:45-1:30pm EST
Speakers: Al Benarroch, Executive Director, and Ivy Kopstein, MSW, Former Addictions Services Coordinator, Jewish Child and Family Service Winnipeg
This session will explore how Jewish spirituality can be incorporated into addiction recovery work and how JCFS Winnipeg works with families in promoting more positive patterns of communications to change family dynamics in addictions.
About Al and Ivy:
Al Benarroch holds an BA (Hons.) in Psychology Master's in Clinical Psychology. Al was in private practice for 10 years, before taking the position as Clinical Director of JCFS Winnipeg in 1999. In 2014, Al stepped into the role of Executive Director and has moved JCFS into the future by growing programming through new and innovative planning. Al's graduate research focused on aspects of health psychology in mental illness. Al has been dedicated at focusing the agency to its core Jewish values in all areas of service. Al is a certified Master Trainer in ASIST (Applied Suicide Intervention Skills Training), the leading suicide first-aid intervention technique. Outside of work, Al is involved in many aspects of community life, sitting on various community boards and committees both within and outside the Jewish community. He is very active in synagogue and community ritual life. He is the lay spiritual leader and Cantor of the Chevra Mishnayes Synagogue. Al is the father of 2 adult children and having a second go at parenting his 8-year-old twin nieces.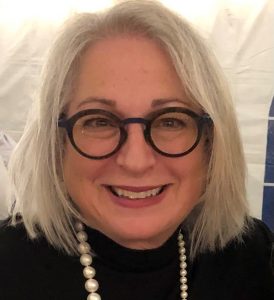 Ivy Kopstein has a Master's in Social Work joined JCFS Winnipeg in 2009 and was tasked with developing and growing the agency's fledgling addiction support services. Having come from a disabilities and program management background, Ivy was instrumental in growing awareness about addictions in the Winnipeg Jewish Community, building key partnerships with stakeholders and collaterals, steering training and best-practices in addictions among all JCFS teams, helping countless individuals and families through direct service, putting JCFS on the Jewish recovery map – locally, nationally, and internationally, and helping JCFS strategically plan future addiction support services. Ivy retired from JCFS in 2021 but continues to be passionate and involved. During her tenure at JCFS, Ivy saw how families were struggling with how to support their substance using member. She began looking for another way to supplement or provide an alternative to the traditional 12 step approaches that could benefit many of the families she encountered. She learned about CRAFT (Community Reinforcement and Family Training) as a unique intervention with research supported tools and strategies that help families address substance use problems. Ivy will speak on her experience using CRAFT.