All events are Eastern Time unless otherwise indicated.
Date/Time
Date(s) - Nov 21 - Nov 23
7:30 pm - 2:30 pm
Through a partnership with the European Council of Jewish Communities, the Network is pleased to extend an invitation for all NJHSA member agency professionals and lay leaders to attend the First e-Summit of Jewish leaders.
This virtual conference will be held November 21st through November 23rd. NJHSA member agencies are invited to register participants at a reduced registration rate of $25US per person.
During the e-Summit, 
ECJC
 and 
JDC
will offer the most innovative and relevant program, including plenary sessions, parallel sessions, group discussions, guided tours to European cities, presentation of innovative solutions, supporting communities' challenges, etc.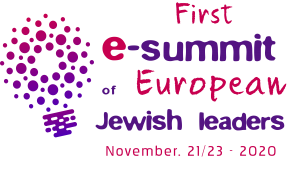 In a very particular year where COVID has shown the force of its impact, Jewish Community life thrives. With no travel and government regulations on lockdowns and isolation worked as catalysts for a new reality: social, financial and of course impacting our Jewish life in Europe.
We believe that now more than ever, we need a space to discover how many communities used this challenge as an opportunity to change direction, pivot and grow.
PARTICIPATE IN THE LARGEST EUROPEAN
JEWISH EVENT OF 2020!