**SAVE THE DATE**
As millions of individuals grapple with addiction, there's an urgent need to elevate the Jewish human service sector's s focus on this issue and take collective action to address substance abuse and other forms of addiction.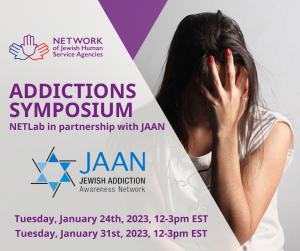 Partnering with JAAN, the Jewish Addictions Awareness Network, NJHSA will host an Addictions Symposium on Tuesday, Jan. 24, and Tuesday, Jan. 31 to highlight examples of the sector's response and bring together human services staff, lay leaders, and other community professionals to learn how to make an impact on the challenges of the addiction crisis in your own community.
This NETLab is an offering of NJHSA's Center for Innovation and Research, with funding from The Harry and Jeanette Weinberg Foundation.