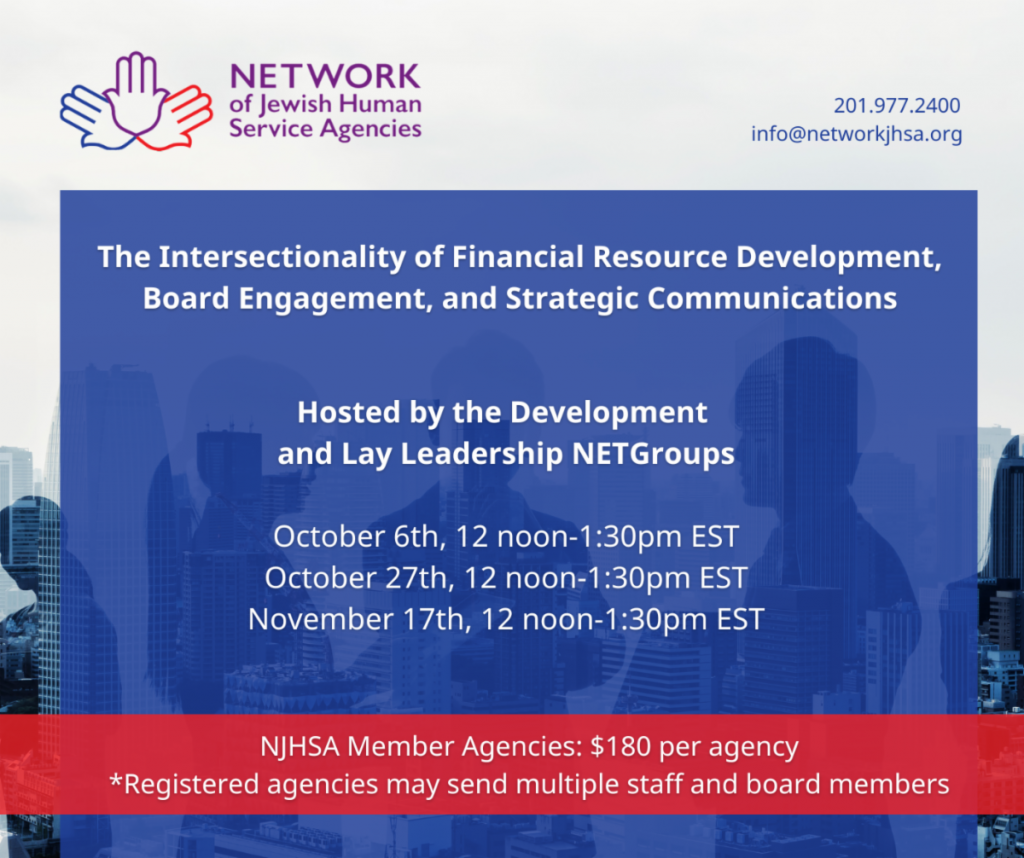 NJHSA and its Center for Innovation and Research are pleased to announce its inaugural NET Lab Professional Development Series, The Intersectionality of Financial Resource Development, Board Engagement, and Strategic Communications offered by the LMK Team of consultants.
This training, designed to meet the needs of both staff and lay leaders, will focus on key Financial Resource Development (FRD), leadership, and communications strategies your organization needs to be pursuing to be successful in today's increasingly complicated and competitive nonprofit environment.
As the Network's Center continues its efforts to support agencies with tools and resources to increase their capacity to address the sector-wide challenge of sustainability, these workshops will help you to hone your use of best practices while offering new and innovative ideas for maximizing contributed revenue.
Each session will provide:
Concrete tools and takeaways to help NJHSA member agencies to better position their organizations and plan for success
Networking opportunities with the presenters
An interactive Q&A session
Session 1: Positioning and Maximizing your Agency's Worth During a Period of Social and Economic Disruption, with seven key steps NJHSA member agencies should be taking to set them apart
Session 2: Managing Your Board for Effective Governance, Enthusiastic Fundraising, and a Place Leaders Where Leaders Want to Be
Session 3: Advanced Fundraising Strategies: How to leverage FRD tools and effective communications to grow your base of support – with in-depth looks at strategic communications, giving societies, events, major gifts + targeted asks, and organizing your FRD team for success
About Our Presenters
This series will be delivered by LMK consultants, Keith Krivitzky, Lee Rosenfield and Marian Z. Stern, who have 70+ years of combined experience working with Jewish communal agencies and other non-profit social service organizations. They have curated their vast knowledge about fundraising, board governance, and strategic communications to create 3 practical, energetic, and interactive learning sessions that are applicable to today's unpredictable world. Keith, Lee and Marian are highly skilled facilitators who will encourage the exchanging of ideas leading to a highly satisfactory peer learning experience. Learn more about the presenters here.