Date: Tuesday, January 24th, 2023, 12:45-1:30pm EST
Speaker: Sharon-Burns-Carter, C.A.C, Substance Use Outreach Coordinator, Ruth & Norman Rales Jewish Family Services
"Recovery is non-linear, characterized by continual growth and improved functioning that may include 'setbacks'."  -Substance Abuse/Mental Health Services Administration
Pathways to recovery from substance use disorder and other addictions are as distinctive and personal as the constellation of symptoms, circumstances, and experiences of each individual endeavoring to find recovery. Even within the same mutual aid group, one person's recovery never mirrors anyone else's exact path. We discuss the various pathways through which individuals and those impacted by substance use and related disorders may enter and sustain recovery, including certain specialized treatments, and the role of cultural, secular, and faith-based groups. Special emphasis will be on the vital role of Recovery Oriented System of Care (ROSC), a coordinated and holistic infrastructure that is person-centered and encourages people to take responsibility for their own recovery by introducing them to peer supportive communities early in the recovery process, allowing them to cultivate a recovery plan within a culture that focuses on self-determination and hope.
The behavioral health industry and clinical care providers have an important role to play in participating and getting their clients involved in ROSC communities, and we will discuss ways to go about having ongoing and effective involvement with these efforts. It is said that "People don't get well in treatment, they get well in the community.
About Sharon: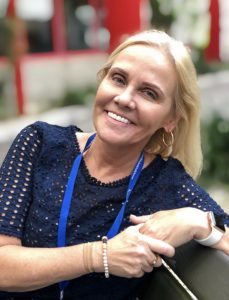 Sharon Burns-Carter, C.A.C, has extensive experience working with individuals and families suffering from substance use disorders. Sharon is the Substance Use Outreach Coordinator at the Rales Jewish Family Services in Boca Raton, Florida, and a facilitator of weekly experiential groups at the Wellness Resource Center. She currently serves on the compliance committee for the Florida Association of Recovery Residences, the board of the Palm Beach County HUB Recovery Community Organization, and as amember of the Palm Beach County Behavioral Health Coalition Opiate Steering Committee. Sharon co-founded the Wellness Resource Center, holding a variety of positions from 1998-2005, including Chief Operating Officer, and consulted with Caron Renaissance Treatment Program between 2006-2008, assisting in the development of their family restructuring program. Sharon has served on the boards of several charitable foundations as well as the Jewish Recovery Center of Boca Raton and Congregation Kol Ami, a Reconstructionist Jewish Community. Sharon is certified by the Institute for Experiential Therapy at On-Site Institute, a Certified Alcoholism Counselor and Addiction Professional from Marymount Manhattan College, a Family Recovery Mentor, Recovery Residence Administrator in the state of Florida, a trained Peer Support Specialist, and a SMART Recovery Facilitator. She is grateful to be a person in long-term recovery and the proud mom of two sons in recovery.