Over the coming days, many of us will gather with friends and family to celebrate the Thanksgiving holiday.  It will be a time set aside to celebrate each other and to express our gratefulness for the goodness in our world. In keeping with that spirit, please accept my personal thank you for the critical services your agencies provide each day.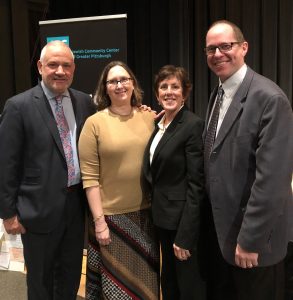 The last few weeks have been a roller coaster for our Network. During the first weekend of November, close to half our Network member agency executive leadership came together in Phoenix for our annual Executives' Conference. They enjoyed days of learning and sharing and throughout spoke of the vitality of our Network and its potential to advance our communities. As we began our time together in Phoenix, we heard via telephone from our colleague Jordan Golin, CEO of JFCS Pittsburgh, who shared the profound and lasting impact of the devastating shooting that tore through his community at the Tree of Life Synagogue; taking the lives of 11 innocent victims who were in synagogue for prayer. And over the last few days, we have watched with fear the spread of wildfires throughout the Los Angeles region, again placing our agencies at the front line of responding to tragedy.
And earlier this week, our Network Board Chair Perry Ohren, CEO of JFS Detroit, joined by Paula Goldstein, CEO, JFCS Philadelphia and Tara Feiner, Director, JFS of Dayton along with Michael Levy, Board Chair, JFCS Atlanta, represented our Network at a Jewish Communal Leadership Solidarity Mission to Pittsburgh. Read the remainder of the message and Perry's remarks here.