As a collection of faith-based human service providers, NJHSA is strongly motivated by our Jewish values to advocate on behalf of, and serve, the most vulnerable members of our communities, regardless of their beliefs or identities. One space where this is most apparent is the foster care system, an area where many of our agencies operate. Although foster care agencies in the United States are mandated to act in the best interest of the child, some undermine that objective by permitting discrimination against children and potential foster parents based on who they are or what faith they practice.
On September 26th, NJHSA Washington Representative Mindy Brodsky took part in a day of advocacy on Capitol Hill with advocates from child welfare and civil rights organizations to end discrimination against Lesbian, Gay, Bisexual, Transgender and Queer (LGBTQ+) youth in foster care. During our meetings with Congressional leaders, former foster youth shared their experiences within the system, and how LGBTQ+ discrimination affected them personally. Others explained the dire state of foster care in the U.S., a system in which less than half of the 117,000 children waiting to be adopted will find a home within the year, and the discrimination that often feeds this statistic.
Briefings were held for Congressional staff, one in the House and one in the Senate, with standing-room only. All panelists reiterated that agencies that discriminate against LGBTQ+ youth are failing to meet their obligation to provide a safe and loving environment for every child in their care.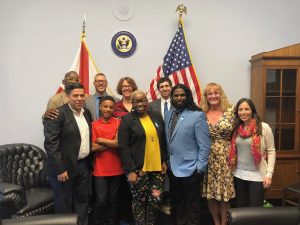 NJHSA was proud to organize the participation of the sole faith-based agency on these panels – the Jewish Family and Children's Service of Greater Philadelphia, as well as to provide Jewish human service agencies' perspective on the harm caused by allowing religiously-motivated discrimination in the foster care system. Speaking on behalf of the Jewish Family and Children's Service of Greater Philadelphia, Meghan Wojtal explained the importance of having a diverse, culturally competent staff, and provided a Jewish perspective on why permitting religiously-motivated discrimination affects everyone, not just those who are LGBTQ+.
This successful advocacy day is only the beginning. The work to ensure dignity and respect for the most vulnerable and disenfranchised members of our society is far from over. We hope you will continue to join the Network in remaining committed to ending discrimination within the foster care system – and wherever else it occurs.
Here are two things you can do today:
Join the Every Child Deserves a Family Campaign to show your support on this issue and learn more about what you can do. You can also reach out to your members of Congress in support of the Every Child Deserves a Family Act (S. 1303/H.R. 2640), which would prohibit federally funded foster care agencies from discriminating against foster children and prospective foster families on the basis of sexual orientation, gender identity or religious belief.
We want to spotlight your work, too! Let us know which issues in our Public Policy Priorities that your agency is focused on by contacting Mindy Brodsky. Help us develop our lists so we can let you know about opportunities like being a panelist at a Congressional briefing like JFCS Philadelphia