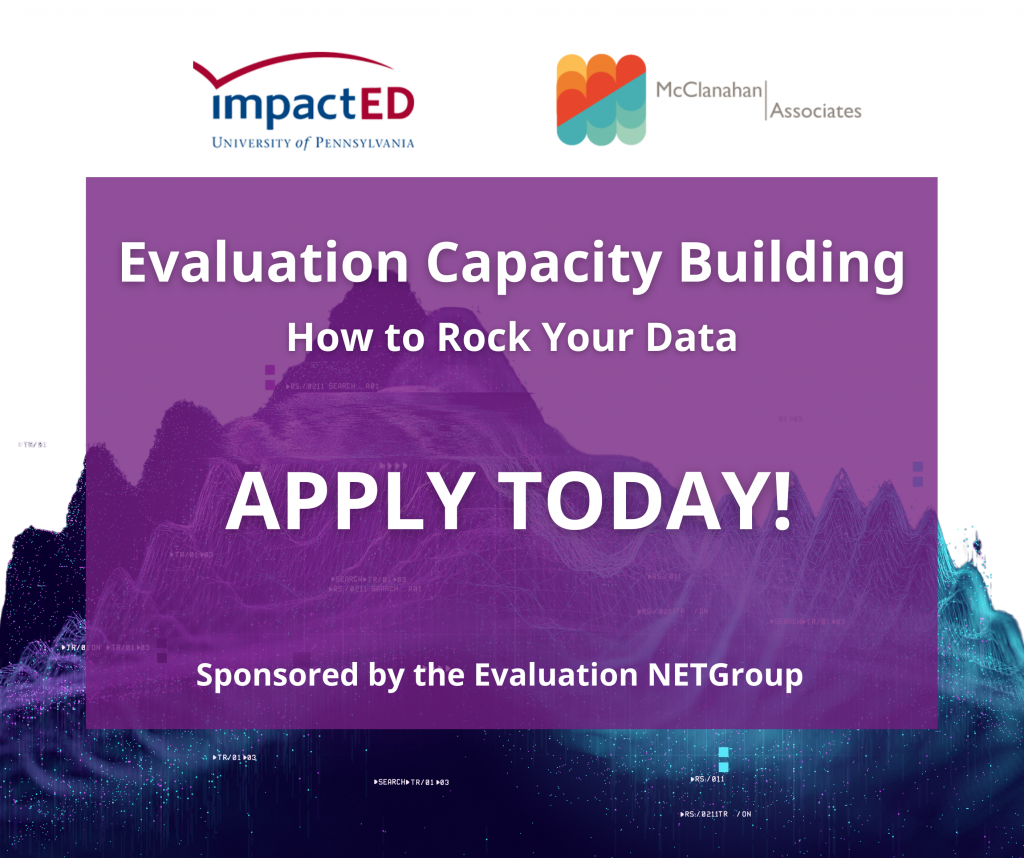 Don't just collect data.
Learn to Rock Your Data. 
Apply today for this special program presented by NJHSA, an offering of the Center for Innovation & Research in collaboration with McClanahan Associates, and ImpactED/UPENN and made possible with support from The Harry and Jeanette Weinberg Foundation.
Open call for applications: October 6, 2022 – October 26, 2022
How are you supporting your organization in strategic decision-making?
NJHSA's NetLab Series: "Evaluation Capacity Building: How to Rock Your Data", led by a team of consultants from McClanahan Associates, Inc. (MAI) and ImpactED, will help organizations learn how to develop core questions about a program, gather new data or identify existing data to answer those questions, and use data to inform program decisions.
The series will also explore the role of diversity, equity, and inclusion (DEI) in evaluation, including analyzing data and information about race and ethnicity, understanding disparities and why they exist, and looking at root causes, problems, and solutions through an equity lens.
This NETLab series is for your organization if:
You and at least one other person in your organization are really excited about data and want to use it in new ways.
You already collect data, and maybe lots of it.
You want to make sure you are asking the right questions.
You want to learn how to use your data to make decisions.
You want to learn how to create new tools to collect the data that you need.
NJHSA covers the bulk of the cost of this program; a subsidized participation fee of $250 per agency (not per person) is required.
Program Objectives: 
→ Participants will be introduced to generating evaluation questions for learning and gauging progress and will build their knowledge and skills in both quantitative and qualitative data collection.
→ Participants will learn to make meaning of their data and use it for learning, program improvement, and to communicate about program impact.
Expected Attendance:
→ A cohort of 8-10 teams will be identified, with 2-3 participants from each organization on each team.
→ Teams should include c-suite and director-level staff, if possible.
Calendar of Events (ET):
→ 10/6/22 – 10/26/22 – Open call for applications
→ 10/26/22 – Application closes
→ 11/4/22 – Cohort selected
→ 12/8/22, 1-2:30pm – Kick-off Session with Cohort
Key Dates
Dec 8, 2022 1-2:30pm EST 
Kick-off session with selected cohort
Jan 11, 2023 1-4pm EST 
NetLab Session 1: Planning for Data Collection
Feb 14, 2023 1-4pm EST 
NetLab Session 2: Data Usage
April 19, 2023 1-4pm EST 
NetLab Culminating Event
Between sessions, participants will have the option to meet with evaluation capacity-building coaches who will provide individualized support to advance their evaluation and goals. All participants will also be offered an evaluation guide that provides reference materials, best practices guides, and tools for implementation.
About Our Presenters
The team will be led by Wendy McClanahan and will involve staff from McClanahan Associates, Inc. (MAI) and ImpactED. Staff from both organizations will facilitate training and staff office hours.